A fresh twist on a Wisconsin staple – the sausage!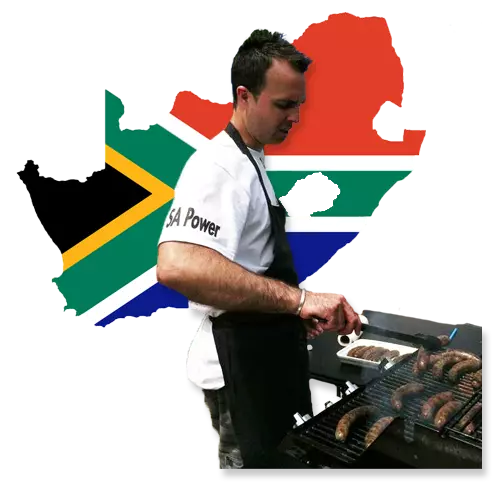 Matthew Devan is a trained butcher originally from East London, South Africa. He started as an apprentice at his father's butcher shop & went on to become professionally trained in South Africa.
In 2000, Matthew moved to Dublin, Ireland and continued his work as a butcher for Higgins Family Butchers. After meeting his wife Wendi (a Milwaukee native), the two packed up and moved to Wisconsin in 2004.
Matthew & Wendi, have set out to bring the flavor of his homeland to Wisconsinites, with a fresh twist on a Wisconsin staple – the sausage!
Exciting News!
We are thrilled to announce that Matthew Devan, creator of the SA Braai Boerewors, has been appointed onsite butcher at La Merenda and (125 E. National Ave.) and Engine Company No. 3 (217 W. National Ave.).
Through the partnership, Matthew will be working with restaurant owner Peter Sandroni to source whole animals – locally and responsibly raised – to provide custom, hand-cut meat for the daily menu.
In addition, dishes incorporating SA Braai will be featured on the menu! We are thrilled about this fantastic partnership and hope you visit Matthew at La Merenda beginning in May and at Engine Company No. 3 in when it opens thisin the fall of 2014!
F.A.Q.'s
Q: How did you come up with the name SA Braai?
A: In South Africa (SA), a Braai is a physical structure built on your patio used "to grill" or "to braai". We recommend our Boerewors prepared on the braai (a grill), so SA Braai was a perfect fit.
Q: What is a Boerewors?
A: A popular essential in South African cuisine, Boerewors are made from premium pork, beef and a blend of special seasonings. They are considered the "brat" of South Africa. In Afrikaans, one of the many languages of South Africa, "boer" means a farmer and "wors" means sausage.
Q: How is the Boerewors prepared?
A: Boerewors are typically prepared on a braai or a grill, but they can be prepared in a pan and included in a number of dishes. We recommend our Boerewors on a bun with chutney or tomato sauce, like ketchup. However, the SA Braai Boerewors is a great alternative to traditional breakfast sausage, perfect in pasta dished & tasty sliced on pizza!
Q: What make the Boerewors unique?
A: The SA Braai Boerewors is mild, but distinctive in flavor.
Q: Where is the meat from? Where is it packaged?
A: Our meat comes from Pritzlaff Wholesale Meats, a small family owned business. Pritzlaff supplies some of the top restaurants in Milwaukee and Chicago. The sausage is packaged at the Prizlaff's sausage plant, Riverside Meats.
Q: I can't find the SA Braai, LLC Boerewors at my local grocery. What can I do?
A: You can call your local grocer and request they carry SA Braai Boerewors in their local section.
Also, feel free contact us at (414) 736-1340.
Q: How can I stay updated on SA Braai events and products?
A: You can "like" us on Facebook and Twitter.